Follow along as I try to build a set of traction bars on a budget! And by budget I mean under $250...
To do this I will skimp on some spots and not on others, we still need them to work!
To start off I got my hands on some 2" sch80 pipe. While this is not as strong as DOM or even HREW the almost .250" walls and 2.5" OD will make it plenty strong for this application, and its cheaper. I would not use this for a roll cage or as the only support in a suspension but for what we are doing... Its perfect!
One place not to skimp is on the joints, while you don't need top of the line you don't want tractor top link joints either, they get slop in them VERY quickly. To get a good joint I got hold of Dan at
Ruff Stuff Specialties
and ordered up some Heims and brackets. They have great prices and some of the BEST service around!
Here are the Heims I got. You will need 2 sets... Make sure you get 2 right hand threads and 2 left hand threads. Using one of each on each bar will allow you to lengthen or shorten them on the truck to set preload.
7/8" Rod End Set, 1 LH & 1 RH, 1.5" Tube ID

This is it, the Left and Right hand set of 7/8" Rod Ends with all the trimmings! You get 1 Left & 1 Right hand 7/8" Chromoly Heim with a 3/4" through bore, 4 Zink Plated Misalignment spacers or Stainless Misalignment, a left and a right hand cadmium plated Jam Nut and the pair of weld in Tube Adapters to go with them (For 1.5" Tube ID). All for 1 great price!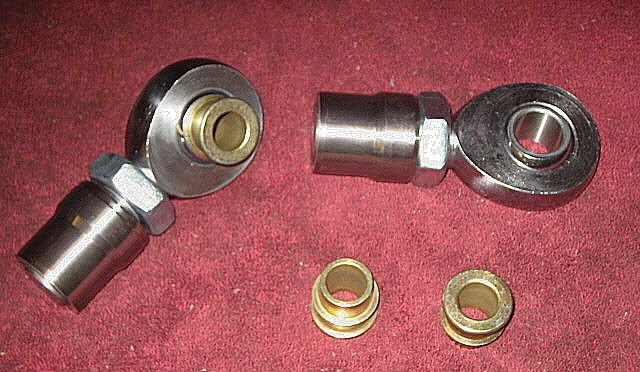 Then I got some brackets, while I could make these it was easier to just hit up Dan and get the on the way!
Frame Side- I Went With the 3/8"
Chassis Tabs, 3/8" & 1/4"

These are the ideal way to set up the bottom link of any 3 or 4 link suspension but to call these Tabs is just a little bit off the mark. These are over 1 pound each! They are meant for the bottom of the rig, the side taking a beating now and then (all the time). We make them .375 thick and with a sloped shape to survive everything you can throw at em', we are pretty sure you can wear them out but you will be very challenged to break them. They are high enough around the bolt to give all but the very largest Heims complete protection and still short enough on the joint end to allow full articulation. These also make an excellent Ram mount off of a truss. Made exclusively of A50 Steel Plate for its density and strength. We have added these in 1/4" also for a couple of dollars less for those that don't need 3/8". These are sold in pairs.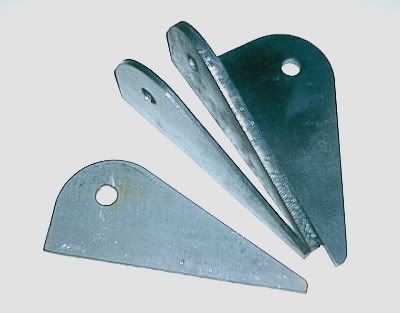 Axle Side - These Come In 3" Only, About 5min with a grinder and they will fit our 3.5" tubes perfect.
Link Tab, 3.0" Axle, Long

This is our mainstay link tab. Made to fit a 3.0 Axle so it is easily adjusted to fit larger or smaller in a couple of minutes. It, and all of our Link Single Tabs are a seriously strong .375" (3/8) thick. We had to go that big to equal the strength of our .25" (1/4) paired link brackets. Sometimes single tabs are the way to go but we didn't want them weaker than our brackets. The ease of use of single tabs this thick sometimes make them a better choice for your 3 or 4 link suspension & its easy to put a bridge between 2 to create the 4 link bracket you want. These are meant to be interchanged with our other sizes to attain the angle desired. these are 2.625" (2 5/8) from the axle to the bolt centerline. The bolt hole is drilled for .5625" (9/16) bolts but easily drilled to another size.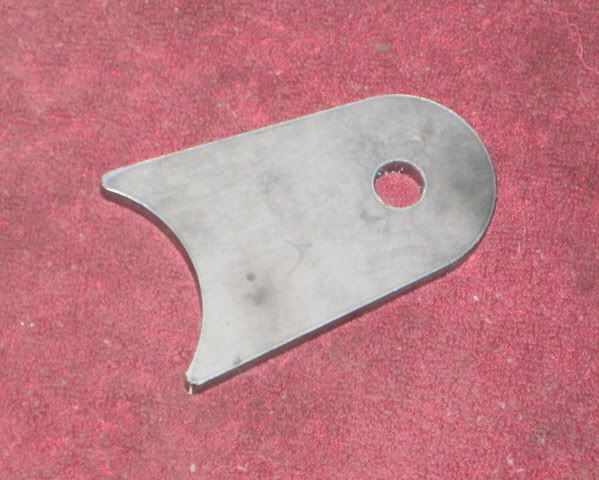 Now for the links, the 2" links are 6' long... Thats a Dr. Pepper Can for reference, I would usually use a Bud Light can but its only 9am...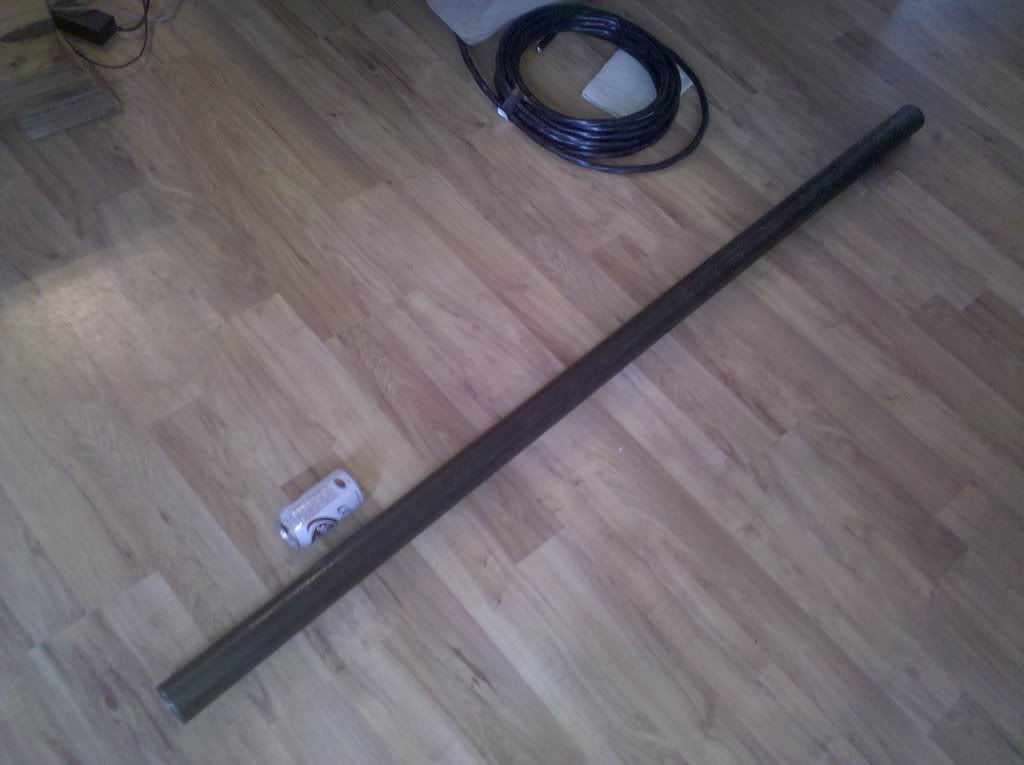 Seeing as how the tube adapters are for 1.5" ID tube I need to neck it down some. No problem, some 1.5" Sch80 tube slips in just right! I'll leave out about 2" and weld it up real good!
I figure total length should be just under 7', that will put the bars right at the middle of the doors. Nice and long! Excuse the poor paint picture but it shows the layout we are going for.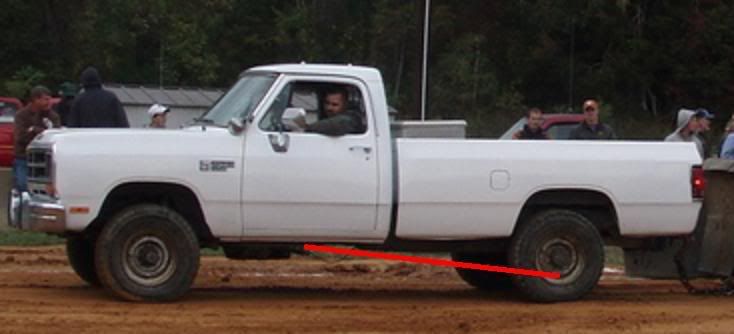 Thats it for now, the parts are on the way from Ruff Stuff, the tube is sitting here waiting to go in, figure out how I'm gonna brib Mike to weld it up, and I'm itching for pulling season!